Building Harrisburg: The Architects and Builders, 1719-1941
By Ken Frew
Over 350 images of Harrisburg history and architecture
Published by the Historical Society of Dauphin County and Historic Harrisburg Association, 2009
ISBN 9780615327662
400 pages
Price: $60.00
Along the Bethel Trail: The Journey of an African American Faith Community
Edited by Lenwood O. sloan, Nancy Mendes, and Michael L. Barton with the Friends of the Bethel Trail
Sunbury Press, 2015
ISBN 978-1620065860
56 pages
Price: $29.95
Harrisburg and the Susquehanna River
By Erik V. Fasick
Arcadia Publishing, 2015
ISBN 978-1467122986
128 pages
Price: $21.99
Legendary Locals of Harrisburg
By Todd M. Mealy
Arcadia Publishing, 2014
ISBN 978-1467101547
128 pages
Price: $21.99
Shop Pomeroy's First
By Michael J. Lisicky
The History Press, 2014
ISBN 978-1626195653
160 pages
Price: $19.99
Harrisburg State Hospital: Pennsylvania's First Public Asylum
By Phillip N. Thomas
Arcadia Publishing, 2013
ISBN 978-0738598277
128 pages
Price: $21.99
One Patch of Grass: How the Babe, Spottswood, Oscar, Eleanor, Vlad and Milton helped Harrisburg make magic on an island in the backwaters of baseball
By Andrew Linker
2012
ISBN 978-1468092899
302 pages
Price: $14.95
Harrisburg and the Civil War: Defending the Keystone of the Union
By Cooper H. Wingert
2nd Edition; revised and expanded
Includes several photographs and maps pertaining to the northernmost engagement of the Gettysburgh Campaign
The History Press, 2013
ISBN 978-1626190412
160 pages
Price: $19.99
The Confederate Approach on Harrisburg: The Gettysburg Campaign's Northernmost Reaches
Cooper H. Wingert
Includes several dozen photographs and maps
The History Press, 2013 (second printing)
ISBN 978-1609498580
224 pages
Price: $21.99
Images of America: Tropical Storm Agnes in Greater Harrisburg
By Erik V. Fasick
Over 200 images documenting the effects of the June, 1972 flood in Harrisburg and surrounding neighborhoods
Arcadia Publishing, 2013
ISBN 0738598232
128 pages
Price: $21.99
Images of America: Harrisburg Broadcasting
By Timothy P. Portzline
Over 175 images covering the history of the Harrisburg television and radio broadcasting industry
Arcadia Publishing, 2011
ISBN 0738575070
128 pages
Price: $21.99
Images of America: Greater Harrisburg's Jewish Community
By Simon J. Bronner
Many of the 175+ photographs are from HSDC's Arnold Zuckerman Collection
Arcadia Publishing, 2010
ISBN 0738573132
128 pages
Price: $21.99
Postcard History Series: Harrisburg
By Jeffrey Adams
Over 200 postcard images of Harrisburg history.
Arcadia Publishing, 2009
ISBN 0738562939
127 pages
Price: $21.99
Images of America: Three Mile Island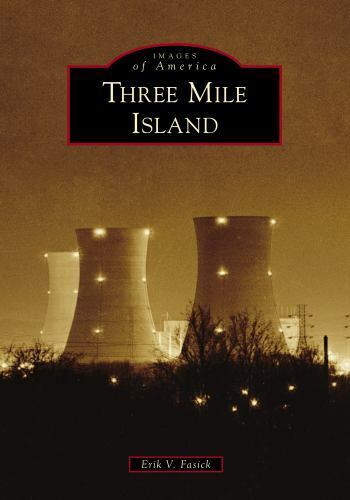 By Erik V. Fasick
Arcadia Publishing, 2018
ISBN 9781467102858
128 pages
Price: $20.00
Pennsylvania Architecture: The Historic American Buildings Survey, 1933-1990
By Deborah Stephens Burns and Richard J. Webster
Pennsylvania Historical and Museum Commission, 2001
ISBN 0892710861
629 pages
Price: $40.00
Historic Hershey Driving Tour – An Adventure to Remember (CD, 2008)
Narrated by Scott Taylor
Turn-by-turn audio driving instructions and a tour map are included.
Audio length is 57 minutes. The 12-mile loop takes 90 minutes to 3 hours to cover.
Price: $15.95
Images of America: Steelton
By Michael Barton and Simon J. Bronner
Over 175 pictures of Steelton history.
Arcadia Publishing, 2008
ISBN 0738557420
127 pages
Price: $19.99
Scenes of America: Harrisburg
By Linda A. Ries
Postcard-sized book contains over 50 pictures of Harrisburg life.
Arcadia Publishing, 2006
ISBN 0738524832
127 pages
Price: $3.00
Citizen Extraordinaire: The Diplomatic Diaries of Vance McCormick in London and Paris, 1917-1919
Edited by Michael Barton with Cherie Fieser, Susan Meehan, and Teresa Weisser
Hardcover
Stackpole Books, 2004
ISBN 0811701212
400 pages
Price: $25.00
Pennsylvania Folk Art of Samuel L. Plank
By James and Vivian Bonson, Jeannine Boring, Robert and Joan Conrad, and William Dancy
Limited First Edition
Hardcover
Kishacoquillas Valley Historical Society, 1994
ISBN 096437210X
67 pages
Price: $20.00
Susquehanna Heritage – The McCormicks of Harrisburg
Inaugural Issue, Volume 1, 2003
Dr. Michael Barton, Guest Editor
A New Beginning by Linda A. Ries, Editor
The McCormick Family Papers Project by Michael Barton
Cleaning Up Harrisburg: The Good Government Reforms of Mayor Vance C. McCormick, 1902 – 1903 by Thomas Clark
The Ablest Navigator: The Rise of Vance McCormick in the Wilson Years by Art Titzel
William McCormick's Work with Working Boys by Gary Tuma
"I am Raising Boys… not Grass;" The McCormick Homes in Central Pennsylvania by Emily Murphy
Book Review – "Rails Across the Susquehanna" by Dan Cupper, reviewed by Michael J. O'Malley III
Published by HSDC
110 pages
Price: $6.00
Lee's Secret Enemy
By Jefferson C. Barnhart, Edited by Jeffrey C. and Stephen H. Barnhart
Chronicles Robert E. Lee's medical condition during the Civil War
Boyer's Press, 2000
165 pages
Price: $5.00
Society Publications from the Past
The following back issues of Historical Society publications are available in limited quantities. Issues are generally in fair to good condition, with some fading, foxing, edge wear, etc. For a few issues, there are no originals left for sale, but copies can be provided. These are noted as such.
Historical Society of Dauphin County Transactions, 1869 – 1905
Charter and By-Laws; List of Members (1869 – 1903); Abstracts of the Minutes (1869 – 1903); Memorials for A. Boyd Hamilton, William Henry Egle, M.D., Hon. John Wiggins Simonton, LL.D., Henry Buehler, M.D., and Meade David Detweiler, Esq.; and Proceedings from 1903 to June, 1905 meetings, which include addresses varying in length from one to several pages:
Old-Time Militia Training by George Bucher Ayres
Memories and Incidents of the Lancasterian School by the Hon. Theodore B. Klein
Personal Recollections of Harrisburg Fifty Years Ago by Dr. John P. Keller
Simon Girty by Harvey B. Bashore, M.D.
The Improvement of the Susquehanna River by the Hon. Theodore B. Klein
The Completion of the Conewago Canal reported by John Hall, Esq.
Fort Washington in 1863 by the Hon. Samuel W. Pennypacker, LL.D.
A Journey from Harris' Ferry to Shamokin in 1747 by John W. Jordan, LL.D.
Memoirs of Joshua Gilpin by Thomas Lynch Montgomery, Esq.
The Conrad Weiser Farm by Lewis S. Shimmell
An Address by the Hon. Marlin E. Olmstead, LL.D.
An Historical Review by the Hon. Theodore B. Klein
Reminiscences (1854 – 1864) by the Rev. Thomas H. Robinson, D.D.
310 pages in four parts
Price: $10.00
Dauphin County Historical Review, December 1952
Volume I, Number I
History of the Dauphin County Courts by Judge Homer L. Kreider
Outside the Wooden Curtain by Rev. Roy Schreiner, D.D.
Published by HSDC
32 pages
Price: $4.00
Dauphin County Historical Review, December 1953
Volume II, Number I
History of Harrisburg Fire Companies by Mayor Claude R. Robins
The Juvenile Court by Judge Robert E. Woodside
How Union Deposit Was Named by Anna E. Eisenhour
Historical Sketch of Zion Evangelical Lutheran Church of Hummelstown by Frederick H. Bolton, Esq.
A Magical Name – Hershey: Genius at Work by Dr. Harry C. Chubb
Published by HSDC
41 pages
Price: $4.00
Dauphin County Historical Review, December 1955
Volume IV, Number I
History of the 100 Years of the Harrisburg and Dauphin County YMCAs by W. Haines Kent
The Pennsylvania Railroad and Its Relation to Dauphin County by William B. McCaleb
These Old Stones Speak by John C. Dight (about Simon Cameron)
Published by HSDC
38 pages
Price: $4.00
Dauphin County Historical Review, December 1956
Volume V, Number I
History of Olmsted Air Force Base, Middletown, Pennsylvania by Lloyd S. Spancake
History of the Harrisburg Post Office by George S. McCrone
Veterans Organizations of the United States, with Special Reference to Dauphin County by Mark T. Milnor
Farmers Markets of Harrisburg, Pennsylvania by Charles E. Walmer
Published by HSDC
40 pages
Price: $4.00
Dauphin County Historical Review, December 1958
Volume VI, Number I
Harrisburg: School of Journalism by W. Carl Sprout
Harrisburg the Objective of Lee's Invasion of Pennsylvania, June 1863, Setting the Stage for the Gettysburg Campaign by Edward J. Stackpole
Further Review of the Work of Jacob Eichholtz 1776-1842 by Rebecca J. Beal
Published by HSDC
46 pages
Price: $4.00
Dauphin County Historical Review, December 1959
Volume VII, Number I
Some Noteworthy Events In Our Local History by Dr. Harvey B. Bashore
Appearance of the Town When First Laid Out by E. Hill Roberts
A Century Ago – Harrisburg and Its Residents by Mrs. Benjamin F. Africa
Harrisburg One Hundred Years Ago by Evan J. Miller
Published by HSDC
20 pages
Price: $4.00
Dauphin County Historical Review, December 1960
Volume VIII, Number I
One Hundred Stepping Stones, 1860 – 1960, Harrisburg Centennial by Jean Gray Allen
Published by HSDC
39 pages
Price: $4.00
Dauphin County Historical Review, December 1961
Volume IX, Number I
Communications Old and New by Eugene D. Lavery
History of Harrisburg School Buildings by David H. Porter
The Educational Background of the Presidents of the United States by Robert J. Evans
Historic Houses in Dauphin County by Evan J. Miller
Published by HSDC
22 pages
Price: $4.00
Dauphin County Historical Review, December 1962
Volume X, Number I
National Parks in America by James B. Myers
Covered Bridges in the Spotlight (no author)
Sunbury and Northumberland County Treasure Trove of History (no author)
History of the Motor Club of Harrisburg by Harold R. Prowell
Chambersburg, One of Our Neighbors Rich in History (no author)
Tinian, the Home of Colonel Burd Yesterday and Today by John D. Husband
Published by HSDC
16 pages
Price: $4.00
Dauphin County Historical Review, December 1963
Volume XI, Number I
1963 – The Gettysburg Centennial by Robert J. Evans
Published by HSDC
11 pages
Price: $4.00
Dauphin County Historical Review, December 1964
Volume XII, Number I
Vanderbilt's Folly by William H. Shank (about South Pennsylvania Rail Road)
Our First Invasion, 1755 by William A. Hunter
History of Presbyterianism In Dauphin County by Rev. Morton G. Glise
Published by HSDC
31 pages
Price: $4.00
Dauphin County Historical Review, December 1965
Volume XIII, Number I
The Governors of Pennsylvania by Paul B. Beers
Personal Recollections of Earlier Days In Harrisburg by J. P. Keller
Some Old Routes of Travel Through Middletown, Dauphin County by Edward L. Croll
Published by HSDC
26 pages
Price: $4.00
Dauphin County Historical Review, December 1966
Volume XIV, Number I
Behind the Iron Furnace Curtains of Dauphin County by Evan J. Miller
Steelton's 100 Years of Steel Making by Walter B. Lang
The Sage of Donegal by Chester S. Nagel (about Simon Cameron)
Published by HSDC
51 pages, PHOTOCOPY ONLY
Price: $4.00